What You Need to Know About the Future of Grocery Shopping
In 2017, grocery-anchored centers grew by 5.4 percent –– a vote of confidence among investors that grocery stores will not be disappearing anytime soon. Florida was one of the top five states in the U.S. for growth in the sector, posting a 6.0 percent increase over 2016 in new grocery space. In sharp contrast, grocery openings nationwide plunged 28.8 percent last year as many brands reevaluated corporate strategies.
The endurance of food markets isn't hard to understand. People want to buy the freshest groceries available. That means picking them out in person and bringing them home immediately rather than ordering online and waiting a couple of days for delivery. For price-conscious buyers, the high shipping costs associated with bulky, time-sensitive items are also a turnoff. In a recent study of South Florida consumer trends prepared by JLL, 93.0 percent of shoppers said they prefer to buy groceries and food items in-store rather than online.
READ RELATED: Why It's a Great Time to be a Retailer in South Florida
That doesn't mean technology won't bring big changes to the grocery-shopping experience. JLL's 2018 U.S. Grocery Tracker analyzes changes underway among the most successful grocers in 2017 and forecasts the future of food shopping.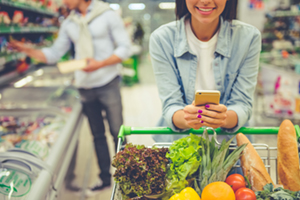 Healthy and Affordable
Sales of organic foods grew by 9.8 percent last year, and chains that offer fresh, healthy foods at affordable prices are moving into new markets. Aldi, the German discount grocer with a strong vegan line, already has 114 Florida locations concentrated in Central and North Florida markets such as Jacksonville, Orlando and Tampa. Phoenix-based Sprouts Farmers Market is also expanding into Florida with stores in Orlando, Naples and the Tampa area.
Private Labels
The increase of private label products –– made by third-party manufacturers and sold under the retailer's brand name –– is more about control of the supply chain than diversity of product. They allow grocers to respond quickly to changing demands and build brand loyalty among consumers. Crucially, they also inflate profit margins. Expect this trend to grow rapidly as discount grocers such as Aldi and Lidl –– both heavily stocked with private label items –– force steep price cuts among competitors.
Online and Mobile Integration
Amazon's merger with Whole Foods has led to significant advantages for both vendors –– Amazon gets a ready-made network of physical stores while Whole Foods profits from Amazon's huge online reach. Expect to see similar consolidations in the future­­ between grocers and non-grocery partners with strong digital platforms.
Digital integration in the form of coupon offerings on smartphones, online shopping and click-and-collect platforms is already widespread. Cutting-edge grocers are experimenting with customized store layouts and product lines based on local customer preferences. Cashier-less technologies that will eliminate long checkout lines are being tested. Emerging blockchain technology, with its ability to improve data management across the supply chain, promises to be a gamechanger for the industry over the years to come.
The bottom line: Brick-and-mortar grocery stores are in no danger of extinction. But as the industry evolves, grocers that take advantage of technology-driven improvements to enhance the customer experience are well-positioned to succeed.